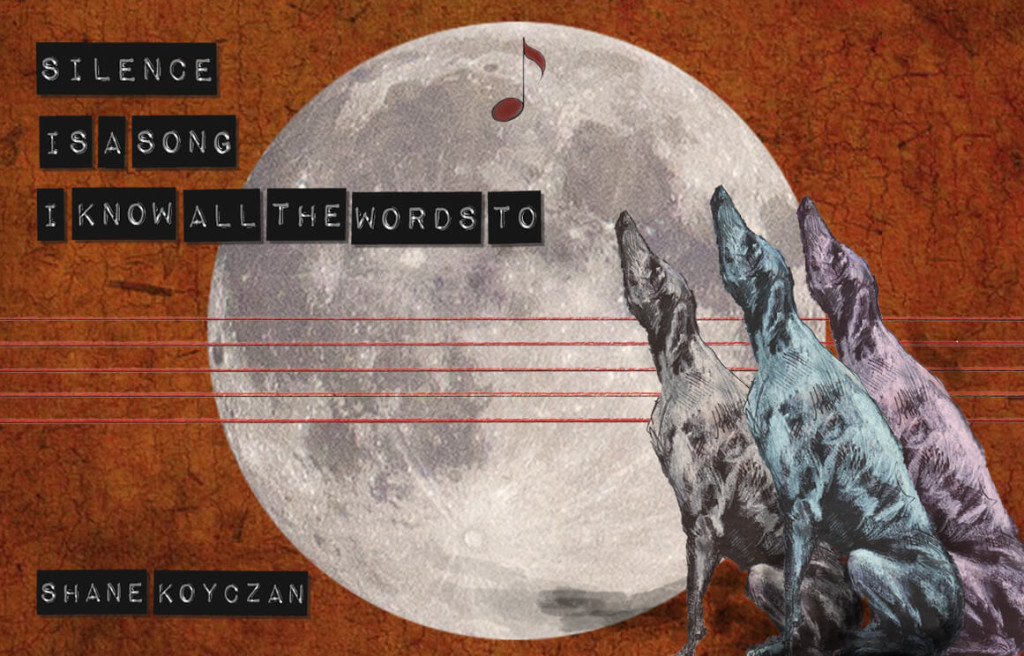 Internationally renowned spoken word artist, poet & author releases 
new album + graphic novel today 
spring 2015 national tour dates now announced 
To This Day book out September 30, 2015 
 Recorded with Cayne McKenzie (We Are The City) and Hannah Epperson and mixed by Aidan Knight, Silence Is A Song I Know All The Words To is the latest chapter in the story of internationally acclaimed artist Shane Koyczan. It is available today along with the companion piece graphic novel of the same name. 
Also out today is the video for album track "Troll", featuring the artwork of Gareth Gaudin who also illustrated the graphic novel. "Troll" is dedicated to all of those who have lost friends or family through online abuse. 
"It's sad to think that we live in a world where so many are careless with their words, or still do not realize that the things they say have weight. Hiding behind invented identities doesn't free anyone to behave inhumanly… any more than wearing a mask grants someone the right to impose physical abuse on another. I've received thousands of letters asking me to address this issue, and have been very reluctant to speak up because I didn't want to draw the attention to myself. I then remembered being in school, and the pattern of silence that gave others quiet permission to continue torturing myself and others. We live in a society that asks us to keep quiet… to allow the world to spin unimpeded. Our silence is a commercial for a peace that will never be achieved unless we do speak up… unless we stand in the way of fear and hate showing others that there is a path that leads away from tyranny. We choose who we allow into our lives… we can choose who to evict." 
Shane Koyczan is also pleased to announce 2015 tour dates commencing March 21. They will include performances in Victoria, Vancouver, Nelson, Edmonton,Saskatoon, Toronto, Ottawa, Calgary, Regina, Winnipeg, London, Waterloo, Montreal, Halifax and more. In the meantime the BC based artist will be a guest on David Suzuki's Blue Dot Tour in October. 
Shane then returns to home for a very special art exhibit Stickboy at Ayden Gallery on October 17, which runs to November 9, 2014. This exhibition will showcase 50 visual artists responding to the theme of bullying explored in Shane's novel Stickboy. This event kicks off Vancouver Opera's production of Stickboy by composer Neil Weisensel and with Shane as Librettist. This visually stunning world premiere is an adaptation of Stickboy which will feature visuals designed and animated by Giant Ant.The Opera premieres at the Vancouver Playhouse on Oct 23 – Nov 7th. 
In 2013, Shane Koyczan collaborated with Giant Ant studios and more than 80 animators to create the anti-bullying viral video success To This Day, which has had more than 13 million YouTube views. He performed a customized version of To This Day"For the Bullied and the Beautiful" at the 2013 International TED Conference in Long Beach, California and now this extraordinary work has been adapted into an equally moving and visually arresting book. Thirty international artists, as diverse as they are talented, have been inspired to create exceptional art to accompany To This Day. Each page is a vibrant collage of images, colors and words that will resonate powerfully with anyone who has experienced bullying themselves, whether as a victim, observer, or participant. 
Born of Shane's own experiences of being bullied as a child, To This Day expresses the profound and lasting effect of bullying on an individual, while affirming the strength and inner resources that allow people to move beyond the experience. A heartfelt preface and afterword, along with resources for kids affected by bullying, make this book an invaluable centerpiece of the anti-bullying movement. To This Day comes out on September 30.
YouTube: https://youtu.be/670if6Etx0o